Capkold Cook Chill Innovations to reduce carbon footprint
April 21, 2022
Author: Emma Hodgson, Marketing Executive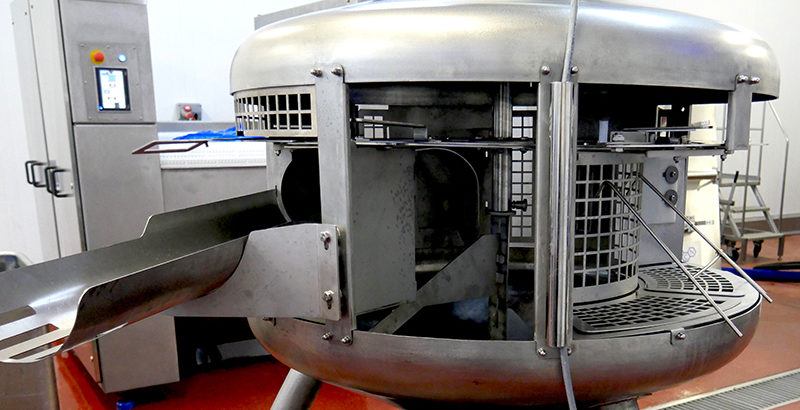 DC Norris were instrumental in introducing the Capkold Cook Chill concept to the ready meals industry in the 1980's. The concept has since been developed and sold by DCN around the world for foodservice installations and other large, centralised kitchens for chilled meal manufacturing.
The research and development team at DCN used the time during the pandemic to look at the cook chill process with a fresh pair of eyes and see what could be improved for their customers benefit. The aim was to reduce carbon footprint by looking at energy and water usage whilst at the same time speed up processing times. This also gives food producers savings on overall production times, costs and labour. These new patented innovations will be launching at Anuga Foodtec next week:
Model 400 Heat Seal Pump Fill Station
Food manufacturers can use The Model 400 after kettle cooking to fill and seal bags for an extended shelf life. This gives another option to our traditional Model 370/390 Clipper Machines which have been industry standard for over 30 years.
The Model 400 is fast and efficient, filling up to 5 bags per minute, (based on 5kg fill). The bags used are also smaller relative to the product, giving a cost saving on every bag filled. The Heat Seal technology makes for a clean, aesthetically pleasing seal and is ideal for Foodservice clients or manufacturer supply of Cook Chill to retail locations. This cost-effective option removes the need for clips and reduces metal detector testing.
DCN Belt Tumble Chiller
The Belt TC uses a flighted belt to massage the bags to replace the rotating drum of our standard Tumble Chiller. This method circulates the chilled water more efficiently around the bags, resulting in faster cooling times, especially of more viscous products. Water savings are possible with the new design as you can control the amount of water relative to the number of bags you need to chill.
As a secondary cooling aid, chilled water is also sprayed on top of the bags during the cycle. The unique self-unloading system takes a fraction of the time taken to manually unload traditional drum type chillers. A 500kg batch is typically unloaded in 60 seconds, reducing emptying time by approximately 25 minutes.
When cooling is complete, the belt lifts the bags out of the water and deposits them directly into the customers tote bin. This revolutionary feature also removes the need for manual labour so prevents any RSI issues.
Capkold Cook Chill Bag Emptier
The unique design automatically opens and removes product by taking the bag through a series of opposing wiper blades. Conventional manual methods result in significant wastage with large amount of food product left inside the bags. With The Bag Emptier incredible savings are achievable with test results showing that typically only 1% of product remains in the bag.
These new concept machines can be used to set-up an automated bag filling, loading and emptying system
After cooking, fill bags using the Model 400 Heat Seal Pump Fill Station.
Load bags into Belt Chiller and complete cooling cycle.
Automatically discharge bags via a chute into tote bins.
Feed bags into the Bag Emptier, automatically open and discharge product.
If you would like to arrange a demonstration or require further information on any of our equipment, please get in touch or visit our stand at Anuga Footec next week – Hall 10.1 – Stand G071.