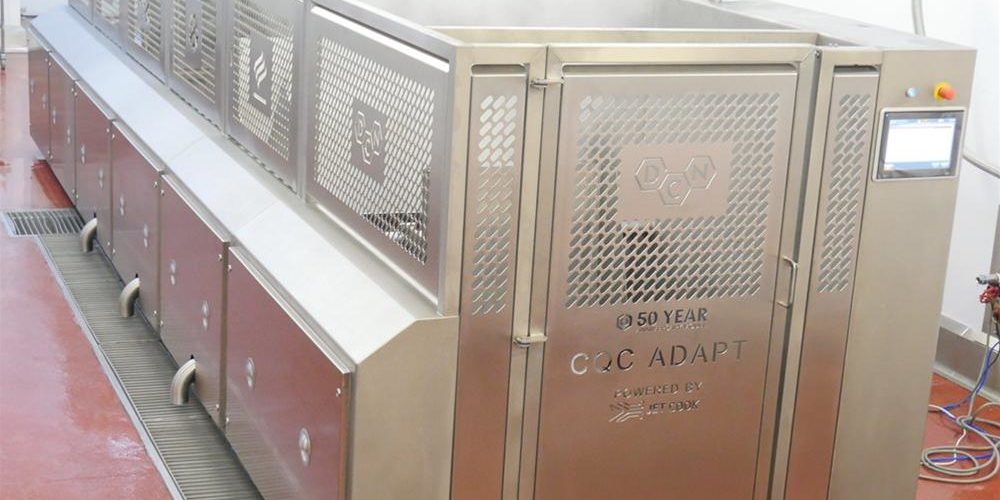 Freshcut Foods Ltd Adopt Cook Quench Chill Adapt
June 3, 2021
Author: Emma Hodgson, Marketing Executive
We are delighted today to announce the first UK sale of our newly developed CQC Adapt system.
The COVID-19 pandemic gave our R&D team some valuable time to assess the lack of innovation from equipment suppliers over the past 10 years in regards to CQC technology.  We took the opportunity to pursue ambitious new goals to design a system which would reduce energy and water consumption, whilst also maintaining product throughput and flexibility.
We ran extensive internal trials before inviting Freshcut to trial the system with their wide range of products including tenderstem broccoli, pasta and rice.  During the trials, improvements and additions were identified by both parties, and then implemented in our workshop before being trialled again.
The System is powered with Jet Cook™ technology which can heat the 565ltr basket of water from ambient to 90°C in 8 minutes using 50% less energy than traditional methods.  Both the Quench and Chill tank temperatures are controlled using individual heat exchangers with only a 150kw chilling system.  We have reduced the amount of time the water has to be changed due to the variable speed pumps in each basket, and the starch removal system. Product is weighed both in and out and is all recorded and controlled on our Recipe Manager Software .
The final result is a system designed by DCN and influenced by one of our customers, which will lead the market as the most energy-saving and highest throughput CQC available.  We anticipate the system being installed and operational in Freshcut Foods by mid-September.