Technology Focus – A closer look at Recipe Manager
May 19, 2022
Author: Annabel Norris, Marketing Manager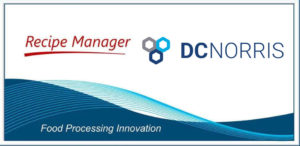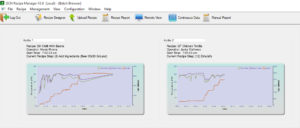 Often the first point of call for our customers is understandably, which cooking/cooling system do they require for their given product and process.  However, one of the most important things to consider when making the investment is, how will that system be controlled to give manufacturers optimum efficiency and consistency whilst producing large volumes of high quality and safe foods?
DC Norris' Recipe Manager Software System has been developed together with our customers, and offers a user-friendly, flexible method of controlling a recipe-driven production process.  Each product has its own unique cooking and cooling parameters written in to give precise repeatable times and temperatures.  These can then be recorded for full traceability using Recipe Manager's comprehensive 'Step by Step' reporting feature, and detailed graphing system.
Food Manufacturers can create ingredient listings, step–by–step procedural recipes and user access security with all recipes stored to a relational database. The system maintains full records of kettle yields, allowing bar code identification from preparation through to packaging, and ensures all HACCP controls are met.
Downtime and process errors are kept to a minimum with these new features:
Automatic Supervisor Notification – supervisors will be notified immediately via email/SMS message of any process deviations outside of the recipe parameters.
Ingredient Addition Management (IAM) – create and manage the food preparation area including Barcode reading and RFID tagging where required.
Recipe Manager can be used together with many DC Norris systems including Cooking Kettles, Cooling Systems, Cook Quench Chill and CIP systems.   There are many benefits and features which you can rely on including:
Calculates pasteurisation values for pathogenic microorganisms (PU / PO)
Temperatures, cook times and motor speeds are automatically controlled by the recipe
Visual display of plant layout and fault notification
Records all weights, temperatures, sequences, deviations and errors
Creates batch reports in text and graph formats
Piped additions are batched in automatically and verified by either load cell or flow meter
Touch screen for operator use
Displays machine operator HMI screens in real time (remote view)
Data can be exported to most popular formats such as Xls, Pdf and HTML
Recipes can include full screen high resolution pictures
Can interface to existing ERP/MRP systems
Manages all users and ingredients throughout the cooking process
Recipes can automatically scale ingredients for different batch sizes
Full audit trail of all recipes
Cooking and Cooling data for the same product (on different machines) are collated together as one batch
Allergen control of cooks that enforces CIP cleaning between incompatible recipes
Can be set-up as a client server installation where several users can use Recipe Manager at the same time.
Our experienced software team can log-in remotely and assist customers immediately with any up-dates and to provide support.   We can also analyse customer recipes in full confidentiality to identify ways to reduce processing times, product quality, particulate integrity or to reduce fat, starch, salt or other spices. The information can then be relayed to their Recipe Manager Software on-site, saving time and cost on travelling.  This can mean immediate savings to the customer whether in ingredients, time or energy usage.
Watch Recipe Manager in action recently in our Product Development Kitchen controlling a DCN Kettle System with Jet Cook whilst cooking Bramley Apple Filling.
To find out more about DC Norris' world-leading Recipe Manager Software System – contact [email protected] / or call +44 (0) 1767 677515