The importance of cleaning & maintenance of DCN equipment
July 28, 2022
Author: Annabel Norris, Marketing Manager
The preventative maintenance and correct cleaning of DC Norris equipment is critical, and as important as the cooking to ensure customers gain maximum efficiency and minimal down-time between cooks. During our recent trip to Qatar, we provided advanced training in product and process skills to the team of chefs responsible for catering for both the fans and staff at the FIFA World Cup.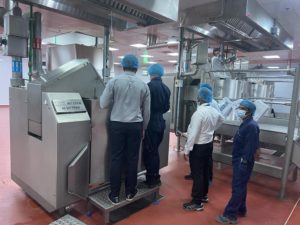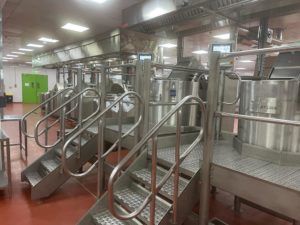 Assisted Wash System
Following the recipe cooks, we demonstrated the cleaning programme using DCN's Assisted Wash system which differs from a standard CIP system. This fully automatic system takes approximately 5 minutes, and ensures the vessel is ready quickly for the next cook.
The system allows for the minimum amount of controlled water to be used to clean the vessel down after the cook.  In a country where water is three times more expensive than fuel its use needs to be regulated and controlled. The nozzle is fitted to the inside lid of the vessel and then our pre-programmed sequence starts:
Water is drawn from the main supply, makes a single pass through our In-Line DCN Jet Cook and is heated to 55◦C before going through our spray balls at a flow rate of between 80-95ltr p/m removing the debris.
The vessel is then filled and the Jet Cook is started, the water is heated to 80◦C in 3 minutes.  The turbulence created removes grease and any debris missed by the spray balls. The agitator is also run at 100% to create even more turbulence in the vessel.
The drop-down valve is then opened and the water is drained.
maintenance
Due to the simplicity of our equipment and its design, the actual maintenance is very low, and part of this is checking the temperature probes, seals and agitator blades.
You can also ensure the DCN Jet Cook is working by selecting a pre-programmed "Jet Cook Test" which simply heats water to a fixed temperature, and the actual time is recorded against the time set when we installed the system.   If the times are different, it means either the filter needs cleaning or there is an issue with the boiler, both of which the maintenance team can rectify.
Our Assisted Wash system is available as an option on all DCN Kettle Cooking systems, please contact us for further details.