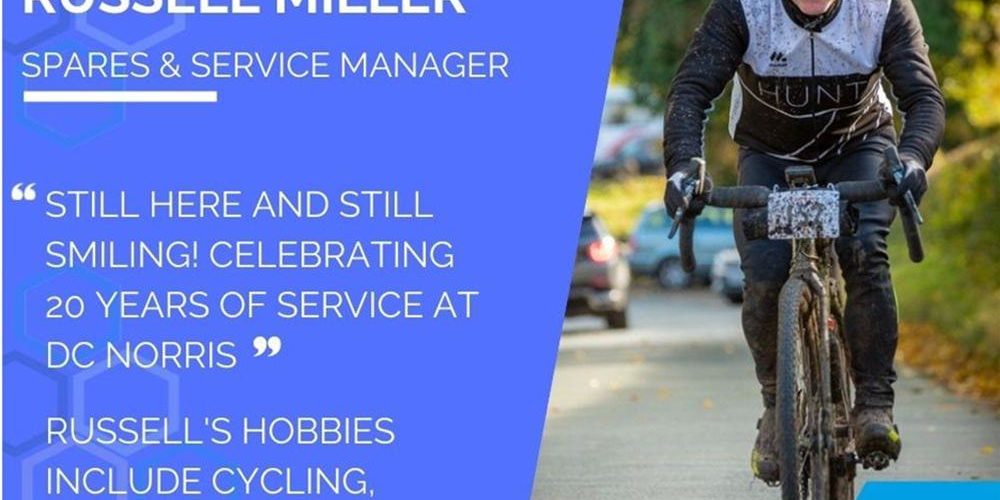 Meet The Team – Russell Miller
May 26, 2021
Author: Emma Hodgson, Marketing Executive
Russell Miller joined DCN over 20 years ago, and today still displays the same cheery attitude and positive outlook as he did then.
Russell's role has grown from Spares Coordinator to Spares and Service Manager, and encompasses all aspects of customer support in terms of parts and service.  He can be rarely found too far away from his mobile phone, (even after hours) and has developed and maintained a great working relationship with many of our clients. Russell is always prepared to go the extra mile when needed and is a valued employee and a great asset to the Company.
His knowledge and understanding of DCN equipment is a testament to his commitment to doing his best to meet client expectations where possible, and serves him well in his role.
Russell is a popular member of the team and is always there to offer support and assistance to his colleagues.
His love for cycling is well known to most of his clients.  He is still the only person we know who is so focused whilst on his bike that he ran into a stationary Land Rover at 30mph and still says he didn't see it!
Russell's hobbies include Cycling, Reading and Coffee.